Filmmaker Matt Davis a Sony Independent Certified Expert (
ICE
) and MD of corporate production company
MDMA
takes a detailed first look at Sonys stunning new PXW-Z100 4K camcorder.
The PXW-Z100 is Sonys affordable entry-point to 4K and includes a lot of new technologies and features in a compact, reassuringly familiar package. Whilst the market is still weighing up 4K, the Z100 brings it into the reach of a far wider professional audience.
It sounds a little familiar when I think back: Long, long ago, in a time before HD
Sony launched the HVR-Z1E – a remarkable camcorder that brought HD to the corporate, event and videography market. You could record
HDV
, but finding a method to play it back could be tricky – HD screens were hard to come by. We found that the
HDV
had some tricks up its sleeve: it could make great Standard Definition video, by shrinking blocky colour pixels you could achieve chromate, and we could make 720p video for playback on computer screens – the corporate world was introduced to HD through PowerPoint. At the same time, we got FireWire, SD features like anamorphic 16:9, in-camcorder down convert of
HDV
rushes so we could file away our
HDV
masters and continue to work in the comfort and safety of DV.
The Z1 is dead – long live the Z100
I feel the same way about the PXW-Z100 as I did about the Z1. It brings many new exciting technologies that seem to be ready for the long term. It certainly challenges my current workflow in the same way
HDV
did back then, and its headline feature – 4K – is deservedly the centre of attention at launch. Well look at what 4K can bring to the videography market, but we also need to introduce the alphabet soup of new abbreviations and acronyms that accompany the camcorder. There are some features borrowed from its bigger brethren that are new to this class of camcorder and present intriguing opportunities to the corporate and industrial market.
There's one thing that this review isnt able to provide in its first iteration – a review of the actual video. Sadly, this review was based around an early prototype and whilst many of the functions were up and running, the picture quality had been dialed back to allow debugging. It would be unfair to show the images I shot with its beta software, but I saw enough to be very enthused with the power of 4K. As time goes on, more and more examples of both 4K and 4K down sampled to 1080p will appear, but the first few samples have been impressive.
So, to start at the beginning, we need to establish whether the PXW-Z100 is suitable as a videographers tool. By videography, I refer to people who generally edit what they shoot, who tend to work alone or in a 2 person team, with a balance of Run & Gun, formal and lit interviews or pack shots, and voxpop or candid style filming. They mostly need to get a wide range of shots and lots of coverage in a short space of time. Generally speaking, videographers cannot control their environment and must make do in terms of lighting, sound and even camcorder placement.
Because of the amount of rushes a videographer generates, and that most finished work is destined for the web or PowerPoint rather than the cinema or broadcast TV, theres a preference for a compressed video encoding system, but the flexibility to use less compression and more colour resolution is certainly appreciated – especially when using chromakey or covering events with very strong coloured lighting setups (theatrical, music, event).
Videographers want a neat, compact camcorder that doesnt consume lots of batteries or require the juggling of expensive media; something that can be pulled from a bag and be shooting in seconds; something that doesnt have frighteningly shallow depth of field but can still generate a good quality image. So thats a long, drawn out way of saying youre probably not going to shoot a feature film or big TV drama on the Z100. The F5, F55 and F65 mop up that end of the market. Youre probably not going to find this the ideal camcorder for traditional Electronic News Gathering, high end documentary or sports coverage – though Im sure it will be used in those categories usually given to Sonys
PMW
and
PDW
range of camcorders. Beyond videography, the PXW-Z100 is great for independent documentary, and will crop up on general production too.
Exciting high end features beyond 4K
Well cover these in detail later – but as a taster – the PXW-Z100 introduces 10 bit 4:2:2 recording on-board. This is true 10 bit, not a padded out 8 bit signal. It has an
HD-SDI
port that interfaces it with professional video equipment. It has timecode in and out – allowing jam sync of multiple camcorders. The PXW-Z100 has an interface for a WiFi dongle – the Z100 can be controlled from a smart phone or tablet through a browser. And it has HDMI-2 which caters for 4K output at up to 60 frames per second (and capable of 32 audio channels apparently).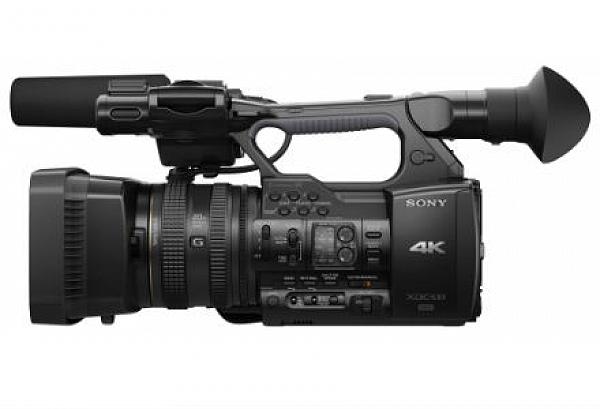 First impressions: the camcorder
On first sight, the PXW-Z100 is superficially similar in size and feel to the HXR-NX5E – the same 3 ring 20x lens, the same flip-out
LCD
panel that reveals transport controls and the traditional fixed handy grip with zoom rocker and focus magnify button. However, theres a little more heft to the PXW-Z100 – around 2.5kg without battery, 2.8kg with an NP-F970 battery installed. Of course, theres a lot more going on inside the camcorder, and for the first time on a camcorder this size, theres a ventilation grille and fan on its right flank. I see no controls for the fan in the System Setup menu, but its very quiet.
A quick nose-to-tail tour starts with the lens – when fitted to the PXW-Z100, it offers f1.6 at 4.1mm (wide) which reduces to f3.4 at 82mm (telephoto). The iris closes after f11, and whilst I can only guess at this stage, the sweet spot will be around f4 and the dangers of diffraction could kick in after f8.
The lens is capped by the newest variation of the traditional Sony lens hood and built in lens cap – or double flap actuated by a little lever to the left. Its a bit more generous than the PMW-EX1Rs, too. Its a simple thing, but it works so well. The hood is a bayonet fit, with simple button push unlock, to reveal the 20x lens – a lot less fiddly than my EX1R, which is encouraging when using 72mm screw in filters such as a polariser.
The PXW-Z100 has a 1/2.3 sensor – and that can be a little confusing, Im sure many peoples first reaction is that that sounds bigger than half inch! Alas not, its slightly smaller. It sits between the traditional 1/3 sensor and the half inch sensors of the
PMW
range. If youre used to the EX1 or PMW200/300, youll need to move a little further back and zoom in to achieve a Depth of Field effect. But this also means that youre getting slightly more angle of view at the wide end (just a little bit less than the EX3).
Between the lens and sensor are 3 Neutral Density filters (with an off setting) providing 1/4 (2 stops), 1/16 (4 stops) and 1/64 (6 stops) brightness reduction. If you need more, you can use up to -6dB of negative gain but this can clip shadow detail.
Moving round the camcorder to the right hand side, theres a fixed handgrip that puts the heel of your hand comfortably under the base of the camcorder nearer the centre of gravity. This is far easier to hold at eye level if youre not into bodybuilding, but tends to discourage you from holding the camcorder at chest height – probably a good thing. To either side of the zoom rocker are the Focus Magnify and Iris Push Auto buttons. Noticeably absent is a last shot review button. However, the camcorder does not have to switch into a Media mode to review clips, so quick (if not instant) review is possible.
Theres a
LANC
compatible socket that interfaces with pan-bar controllers for Zoom, Push-auto focus and rec start/stop. Interestingly, theres the traditional thumb-operated Power On/Off thumb switch with a little latch. It was interesting as the latch prevented the camcorder from being inadvertently switched on, but allowed it to be switched off regardless of the latch. I found this out whilst filming in a busy crowd, and it wasnt just irritating, it could lose you the money shot.
Behind the handgrip is a large ventilation grille with a fan drawing warm air out of the camcorder. Its on all the time, but its quiet and shouldnt cause too much problems even in quiet room interviews. Its worth checking that this grille doesnt get blocked by any camcorder rain covers, and that you offer the camcorder some extra protection outdoors and in dusty environments.
Underneath the grille is a DC power input that supplies 12 volts at 2.5 amps to the camcorder. This is a great fail-safe for times when you should be running off mains all day but for some reason the power disappears. Im sure many PXW-Z100s will be recording conferences and theatre productions, some possibly unmanned (where a battery wouldnt quite last the shoot). Powering the camcorder from the mains is fine, but Ive known – Ive
WATCHED
delegates unplug your camcorder so they could charge their phone or laptop. The camcorder switches to battery without a blink.
The rear of the PXW-Z100 is exciting
Below the Electronic Viewfinder – much the same as many similar models – is a headphone switch for choosing channels to monitor, and below that, an interface for the WiFi dongle.
Yes, this camcorder acts as a little wifi base station (so its not connecting to the internet, you connect to the camcorder). Each camcorder will have its own unique ID, so in keeping with the Sony F5 and much like other Wifi camcorder controls, you can connect to many devices, one at a time, with one device (laptop, smartphone or tablet). Or you can have a browsing device per camcorder in a multi-camcorder setup – why Because it provides you with a remote Camcorder Control Unit for each camcorder so you can tweak each camcorders exposure, colour balance and so on remotely (as you vision mix, for example).
Branching momentarily to the bottom right are two more ports that make this camcorder extremely interesting for multi-camcorder live switching and post event edits. The 3G
HD-SDI
port outputs 4:2:2 10 bit images at up to 60fps at 1080p.
HD-SDI
uses co-axial cable thats ubiquitous in broadcast video applications, and can run 100 meters or more from camcorder to base – with repeater boxes, it can go much further.
HDMI
cables dont like more than 10 meters. So, multiple camcorders can be spread around a large venue and controlled from a single point.
Your multiple PXW-Z100 recordings (which can be 4K) can be synchronised along with other video and audio recordings with the Time Code port, where the camcorder listens to a time code source, synchronises to it, and continues on at frame accuracy whilst you jam the Time Code sync into additional camcorders and sound recorders. At edit time, each recording (video and audio) is frame accurately locked making their synchronisation effortless. You can also use Time Code slates – or even a tablet with a TC adaptor to label shots with frame accuracy when shooting with other camcorder systems and Broadcast
WAV
audio recorders (which also include Time Code).
Above these is a panel door revealing the
HDMI
2.0 slot, which will be the main 4K output, but can happily drive an HD monitor, and the PXW-Z100 can down convert 4K to HD through this port. In theory, it could drive an HD set at 60p (
HDMI
1.3 tops out at 1080p30), but I havent been able to test this. Another function Ive not been able to test is whether the
HDMI
output will drive an external recorder such as the Atomos Ninja. It will certainly provide a clean high quality picture, but Sony introduced Time Code and rec start/stop to
HDMI
with version 1.4, so that a recorder such as the Ninja senses when the camcorder is recording internally and drops into record its self with an identical time code. As such devices can record edit ready material onto cheap spinning disks, conference and presentation records neednt eat up expensive media.
Next to the
HDMI
is the Utility
SDHC
slot. This will capture the entire setup of the camcorder via the System menu, and save up to 64 versions of your setup. Of course, what this means is that youre not using a few pots to store Picture Profiles in, you have up to 64 states to choose from. At time of writing, this option is greyed out, so I cant report whether setups can be named or not (I hope so!).
Above that is a surprise: the very traditional and somewhat quaint yellow, white, red analogue composite video output. It can truly be said that all your bases are covered. Im ashamed to admit that there have been occasions where hi-tech fails, and good old
RCA
Phono saves the day. I hope you dont have to open this door.
Passing briefly over the battery compartment, it snugly consumes an NP-F970 battery and even when running beta software I was impressed by how it didnt consume huge gobs of power. Theres lots of processing, a complex chip to feed, and of course that fan – and heat is consumed energy. 3 or 4 NP-F970s should hopefully see you through a day.
And then to the media bay on the left. Behind the half-glazed door lays 3 media slots and 2
USB
slots.
Of course, the main attraction is the two
XQD
slots. The
XQD
format is lining up to take over from where Compact Flash (almost 20 years old) leaves off. The
XQD
format has rapidly ramped up to a transfer rate of around 125 Mbytes (1 Gigabit) per second double that of most
SDHC
cards. However, even these Type H cards arent quite up to the demands of 4K, so the recommendation for the PXW-Z100 is the Type S cards at 180 Mbytes per second. Of course
XQD
increases maximum capacity beyond the 2GB limit of existing formats. When youre creating data at 600 Mbps (4K at 60p gives you 10 minutes on a 64 GB card), you need to readjust your horizons for storage.
Card capacity brings up an important point – the PXW-Z100 employs the same codec and recording formats as the F5 and F55. Not a cut down budget version, not a reduced fat version, but the full-on heavy-duty format. Check through the figures in the table and whilst the numbers look a bit scary, theyre impressive too. Ive found that converting these files to ProRes actually doubles the file size without adding anything appreciable to the quality judging by the detail in my Waveform Monitor, Vectorscope and diligent eyeballing.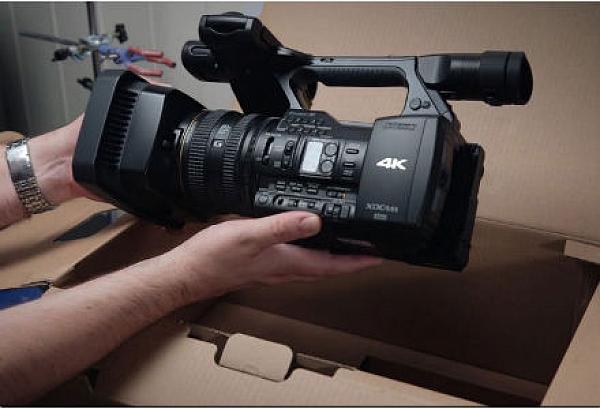 The different flavours of XAVC
XAVC
refers to a family of compression types that Sony will be rolling out.
Its based on the very highest set of the H.264 system, specifically to handle 4K and HD and how to handle 10 bit and extended colorimetry that goes beyond Rec 709 into Digital Cinema Initiative P3 territory.
It comes in many flavours that can cope with low and high quality, low and high bit rates, low and high processing power – at either end. Its not one fixed format, but a matrix of resolutions, data rates, frame rates and bit depths, all stored in the Media Exchange Format (
MXF
) wrapper which enables a wide range of Non Linear Editing systems to see and manage the video.
So theres two types of encoder pattern: theres intra frame (every frame is its own entity) and inter-frame (one big keyframe, followed by just the changes per frame). Intra frame provides great quality, and is easy to edit if you have the bandwidth, but it creates very large files. Inter frame (or LongGOP) is much more space efficient, but somewhat harder for computers to edit.
Then theres bit depth: weve mostly been used to 8 bits 256 (or less!) steps to describe tonality from low to high – per channel in
RGB
. 10 bit is our new goal, using 1024 steps from dark to light in each channel. 10 bits means well see virtually no banding in skies and still water, or around subtly lit walls. It also provides more data to work with for grading the video in post.
Finally, theres colour resolution –
XAVC
provides 4:2:2 where colour is merely half the resolution of the luminance or black and white information, plenty enough for rich colours and demanding situations like chromakey. The less demanding consumer variant is known as
XAVC
S – this uses the familiar 4:2:0 colour resolution, where colour info is a quarter of the luminance info – good enough for most things that dont have to be retransmitted over and over again. So
XAVC
caters for resolution (4K
DCI
, Quad HD, HD, SD), Temporal compression (I-frame and longGOP) and colour resolution (4:2:2 and 4:2:0). The lower end (longGOP, 4:2:0, 8 bit) is labelled
XAVC
S and this is wrapped in an MP4 file container.
Note that the PXW-Z100 will have the LongGOP mode in addition to intra frame via a future firmware (free) upgrade.
Next to the upper
XQD
slot is an
SDHC
slot. At launch, this wont be enabled, but its planned to provide
AVCHD
recording which is one of the most used recording formats today. If you need to shoot for a client who cant take
QXD
or
XAVC
, this is an ideal compatibility solution.
Note that there is no interlace. There is no interlacing in 4K, and this camcorder will not record interlaced video (notwithstanding the
AVCHD
update of course). Thats what the 50/60p mode is for.
The familiar left panel

As is traditional for professional video camcorders, youll find most of the day to day controls on the left panel, and reassuringly – its all very Sony.

It operates exactly like every other Sony Professional Camcorder Ive used, with a 3-way gain switch, White balance split with 2 memories and a preset and an adjacent white-set button, and the trinity buttons – Gain, White Balance and Shutter which toggle between manual and auto control. There is also the useful panic switch that puts all exposure controls into automatic. Focus can be switched from auto to manual, with a push auto function – whilst in manual mode, push and hold as the camcorder lens auto-focuses; release to hold that in manual mode. I find this far more useful than full auto as like most other systems, this camcorder prefers to focus on backgrounds if left to its own devices.

ts easy to select both audio channels of your recording mapped through to only one microphone – with channel 2 reduced in sensitivity a little – just in case the audio gets a little too loud and you cant ride the levels like a sound engineer would.

The Audio panel is protected from the mad scrabblings of the cameraman by a little door that ensures knobs arent moved inadvertently. Like the FS100, each channel can be selected from the built-in mic, XLR-1 or XLR2 (mic/line and phantom power switching are controlled from a panel beside the sockets). Therefore, its easy to select both audio channels of your recording mapped through to only one microphone – with channel 2 reduced in sensitivity a little – just in case the audio gets a little too loud and you cant ride the levels like a sound engineer would. This is a critical feature for videographers working solo, as over modulated audio is ugly and unfixable.

There is an audio limiter to duck the levels that may overload, but if youre working too fast its easy to forget and sometimes hard to hear if the limiter is on, giving your audio a pumped sound. Use with caution.

Above that are six assignable buttons – the latter three have been labeled Zebra, Peaking and Thumbnail, probably best to keep those.

Other assignable options include toggling markers (safe areas and aspect guides), steadyshot, bars and S&Q Mode.
Slow and Quick in 4K
The PXW-Z100 will record 60 frames per second in 4K (when set to
NTSC
region), but of course not all productions will suit 60fps
Therefore the camcorder has a Slow and Quick mode that provides both slow motion (by over cranking – shooting more frames than required) and speeded up motion (by under cranking – shooting less frames than required) and ensuring theyre played back at the desired rate. Furthermore, you can shoot down to 1 frame per second for time-lapse shots.
However, the slowest shutter speed is 1/25th, so one cant create the slow shutter time-lapse effects. Well chalk that one up to hopefully changed in a future upgrade.
The S&Q frame rate is set via a menu rather than the side roller control, but if youre constantly using time-lapse or slow motion, its quick to toggle it on and off.
The viewfinder panel opens in traditional book fashion, revealing the transport controls and a few other key functions.
There is no media mode as such. To view previously shot clips, simply press the thumbnail button. Whilst navigating, each clip can be played, inspected or deleted. The lower part of the display provides info on resolution, frame rate, duration and name. Its worth noting that HD and 4K files, at
NTSC
and
PAL
rates, all sit happily together in the Thumbnail view. Your 60fps S&Q 4K shot to play back at 24p will be as accessible as the 25p interview at 1080p.
The
LCD
panel has a high resolution, which means the information density has gone up too. Theres a lot of info around the edge in small type, and whilst a lot of information is there, its been rearranged. Its often the little things that can upset you – Timecode/Duration panel has moved from top right to bottom left, for example. But at least we have a Shot Duration display that has been missing from many videography camcorders.
Zebras – the hatched display that highlight a certain brightness range – are a vital exposure aid. There are two different patterns that can be set to refer to two different brightness levels. Choose one, the other, or both. Traditionally, the main zebra pattern is set to 60-70 for skin but this doesnt really take skin colour into consideration. Most people use zebras at 100% to know everything above that is burned out (with a little wriggle room).
In general, the amount of information is sometimes hard to take in at a glance, and the audio meters, whilst pretty and discrete, may frustrate a sound engineer trying to find 18dB on it. Luckily we have the Status View – scroll through 6 pages of clearly presented data on your camcorder. Page 2 offers lovely large audio meters with helpful reminders about the reference level set for microphones (some quiet ones need help, louder ones can be dialled back – remember to use the reference level with your sound level knobs in the middle to adjust your microphone levels first – dont just turn a quiet mic up to 10!)
Other pages display your media usage, button assignments, camcorder settings, system settings and video outputs.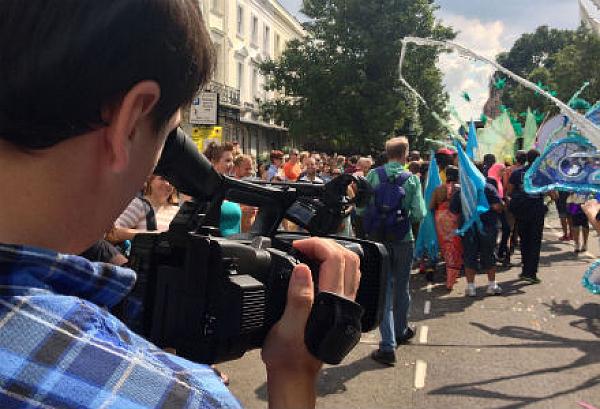 Painting by numbers
The menu system has been rationalised, so between Camcorder and Audio, we now have a Paint menu.
This is where the Picture Profile controls have moved to. Instead of a number of picture profiles, each camcorder setup has its own profile, so switching profiles can also switch button preferences, system setups and so on.
The camcorders white balance controls dont provide a quick non-menu way to dial in a colour temperature, so one needs to use the Preset setting and change it via the Camcorders Paint menu. Currently, the settings go from 3,200 to 15,000 Kelvin – hopefully well see the lower number change. Filming in the theatre (where coloured light can mess up an
ATW
or white balance) often uses dimmed lamps, and many domestic lighting setups will be more like 2,900 Kelvin. A low of 2,200 Kelvin would be a more useful point to start.
There are no CineGammas on the PXW-Z100 – instead, we have 6 Standard gammas (including a Rec709 setting) and the two Sony CineTone settings. CineTone is more about providing a rich contrast and deep shadows in the original recording rather than grading in post. They havent been especially popular in the videography world, as the main theme has been in highlight compression.
A knee control is provided, so you can select at what point the highlights are compressed (from 75 to 109), and by how much. A well set knee can tame bright skies and harsh highlights, but too much knee in the wrong place can make a very artificial looking image, so test early and test often.
Theres Black Gamma control too, for opening up shadows. Traditionally, this has been at the cost of slightly noisier blacks – but checking these finer details must wait until the software is complete.
A Colour Matrix section provides control over general spread of hue and saturation, and if you need to use multiple PXW-Z100s live on a regular basis, you can fine-tune each one to match them all.
Detail – the electronic sharpening that helps add crispness to an image can be dialled up and down. If youre able to do sharpening in the post production phase, its best done there but for faster turnaround you can dial in detail to your taste and application.
Time of day
There are two methods of generating Time Code if youre not jamming sync from an external source: regenerate from the last shot, or free run from a preset. But curiously, the most useful form of timecode to a videographer is missing: Clock. In other words, set the time code to the time of day, accurately set from the camcorders internal clock. The workaround is to set the preset to the current time, but Ive noticed that this method doesnt stick so if you want time of day code, you need to regularly check the setting and change the preset when necessary.
Close to the edit
Theres a variety of resolutions and frame rates on your card. What happens next Delightfully, its all pretty straightforward.
So youve wrapped on your shoot, your cards are full. Theres a variety of resolutions and frame rates on your card. What happens next Delightfully, its all pretty straightforward. The most popular edit platforms are all ready for
XAVC
. Vegas, Avid, Premiere Pro,
FCP-X
and Edius Pro are ready to import
XAVC
and pretty soon can write to
XAVC
too. Im an
FCPX
editor, which is already set for
XAVC
import after a recent update. I can report that it was remarkably easy to ingest footage both by plugging the camcorder into my edit system via
USB
, and by using a cheap 3rd party
XQD
USB3 reader.
Data storage is a major issue. Editing 4:2:2 10 bit HD is easy. Just like ProRes. However, 4K was a lot more challenging. Im a Mac based editor, and 4K needs a high performance Thunderbolt drive, preferably
SSD
. A FireWire 800 drive, even at 7200rpm, is not going to work nicely. I could do simple cuts and dissolves edits, at 4K on
SSD
through Thunderbolt, but if I wanted to do 4K multicam, this may take a while for computers to catch up. For downconverts, it all felt like the early days of
HDV
to DV. Its four times the info, things take four times as long. You dont want to be applying FilmConvert and Magic Bullet Looks to 4K rushes, and if you do this to a 4K final grade, take the weekend off. But it IS worth it.
The hardware in conclusion
The PXW-Z100 is a solid, compact camcorder that fits the hand well for a wide range of shooting positions, and will happily shoot on a tripod with
LANC
control.
Its a tried and trusted formula. What stands it apart is whats inside.
4K aside, its straddling two types of videographer. The absence of a histogram in the viewfinder, a Time of Day timecode generator and CineGammas will put off some videographers who have come to rely on these aids on every shoot, but they are well served by the
PMW
line.
But for the rest of us, there are phenomenal benefits (and well come to 4K in a minute.)
The
HD-SDI
and Timecode, combined with WiFi control, make it an intriguing camcorder for live multi camcorder setups, especially in the webcast and online video markets. The 10 bit 4:2:2 recording format promises that it will work well for chromakey and removes the risk of ugly web encodes due to 8 bit banding.
And now we can, finally, address 4K
Its coming. 4K isnt a marketing device to create planned obsolescence, its a reaction to convergence between big screen and small screen, cinema and data. Most UK HD setups, in theory, cant show the difference between 720p and 1080p but whilst 4K is just starting to spread into the consumer realm, it is in the corporate, event and industrial sector – precisely the market where the Z100 is focused – where many first 4K applications exist.
4K isnt just about filling your peripheral vision. 4K may be supplying additional resolution invisible to a standard view but necessary for a close view. Research shows that when your horizontal angle of view exceeds 100 degrees, you tend to fall in to the picture to the extent that it can have an impact on motion sickness. 4K can show a huge amount of information around a perfectly acceptable HD image in the centre think of hang-outs, enhanced TV, combining social media with live events, immersive experiences or any video you wanted to zoom into.
Shoot in a format that will future-proof your work – when filming once-in-a-lifetime event, or when gaining unique access to a person or situation, filming at 4K ensures ease of future use.
Even before you own your first 4K display, 4K can revolutionise your workflow right now.
Shoot wide in 4K, crop in post: this trick saves many difficult videographer interview sessions. Often a one taker, how do you cut an 8 minute interview to 90 seconds without jump cuts Maybe theres no chance for cutaways. Simply shoot a medium shot and crop in to a close up at an appropriate moment, using the change in shot size as an excuse to edit.
Shoot in 4K to create video that works as 16:9, 4:3 (tablet), 3:4 (vertical tablet) – curiously, videography faces more aspect ratios, not less. My specialism is in Event & Experience Marketing (from conferences and trade shows to installations) and projector blending technology such as Spider and Dataton Watchout call for very wide aspect ratios as three to seven screens are merged horizontally, or over a 360 degree wrap around experience.
Downsample 4K to HD for incredible detailed pictures – just like
HDV
made very nice SD, 4K makes beautiful HD.
Downsample 4K to HD for very high quality keying, as the 4:2:2 capture becomes the equivalent of 4:4:4:4
Shoot in a format that will future-proof your work – when filming once-in-a-lifetime event, or when gaining unique access to a person or situation, filming at 4K ensures ease of future use.
Explore the realms of Beyond-HD screens – creating a close up and almost tactile experience. Video can become as rich and as detailed as a photograph within a book. Rather than being presented with a little postage stamp view, or the feeling of a film clip, 4K at 60p can feel like a window into reality, even when held on your lap or propped up at a café table.
4K isnt just about long form or narrative film, nor is it only good for visual spectaculars or intense music video experiences – the leap forward in clarity, the ability to allow viewers to pinch and zoom within a video, creates new uses within training and education, science and technology.
For me, thats the point of the PXW-Z100: youre buying a good, solid videographers camcorder – and youre also buying the fast track into the world of 4K.