SHOOTING WITH THE BLACKMAGIC CINEMA CAMERA
Camera tutorials & post production work flow using DaVinci Resolve- by Rick Young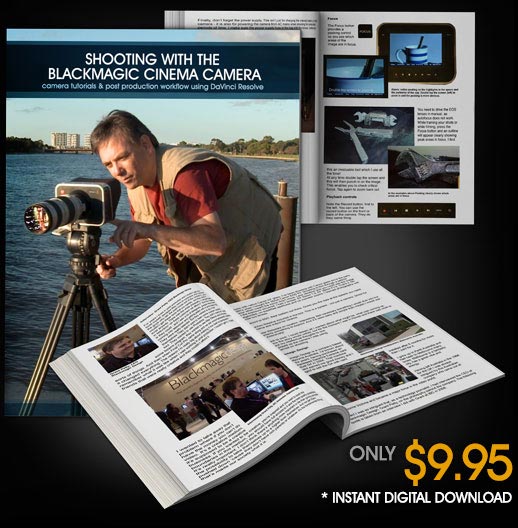 *Featuring: 2K Cinema Work flow*
Cinema Work flow - the jewel in the crown! How to bring the 2.5 Cinema DNG files into Resolve, grade these, and then output as 2K ProRes HQ files for editing in Final Cut Pro X. You can then edit a 2K movie in FCPX and output a 2K master file!
Technical run-through of the Blackmagic Camera. You will be shooting with a good understanding of the camera in no time!
Vital information about using Canon and Nikon lenses with the Blackmagic Cinema Camera EF

Using clamps, attachments, external batteries, and rigging the Blackmagic Cinema camera for your specific needs
Working with audio
Detailed description of using RAW vs ProRes and the distinct advantages which RAW brings
DaVinci Resolve work flow: quick run-through of what you need to know to get your 2.5K footage in and out of Resolve and exported for use in the NLE of choice
Interviews with those involved with the development of the camera, including:
Grant Petty - CEO Blackmagic Design;
Peter Barber - Co-founder Blackmagic Design
John Brawley - Cinematographer
Links to movies showing the Blackmagic Camera in use, on location.
DOWNLOAD SAMPLE PAGES (PDF file)


This book is jam-packed with information about the Blackmagic Cinema Camera.
Rick Young takes you on a journey from the first time he touched the camera to outputting cinema quality 2K files.
This book gives you all the information you need to know to work with the camera and post produce the images using Da Vinci Resolve.

A complete work flow is provided for shooting and outputting cinema quality. Shooting with the Blackmagic Cinema Camera is now available as an electronic download.