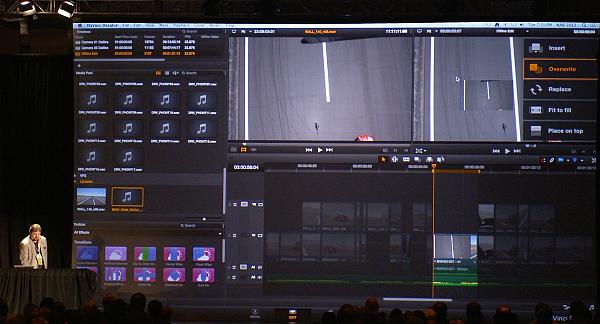 DaVinci Resolve 10 has the potential to be huge! Having seen the software demonstrated at the
NAB
SuperMeet by Alexis Van Hurkman, I can truly say I am very excited by what the next version will include.
The reason I'm excited is because Resolve will now feature an editor as part of the offering. The editor within Resolve has been talked abut as an Online Editor – which means to produce final pristine output, complete with titles, graded content and what effects you want to include.
In the demo by Alexis it was clear to me that editing happened quickly, without pauses, and not a single crash. To put it mildly, Alexis flew around the keyboard and not once did I see the software wait and play catch-up.
Alexis boldly declared as he opened his demo, that Resolve 10 is a big big release.
Having watch the demo I agree with him – this is undoubtedly a major upgrade. Having used Resolve 9 the new features are clear straight away. Now Im not a colorist, though these days we are all colorists to some extent. I dont grade for a living, though I do do grading as part of the work from which I make my living. Editing – that is what do, along with filming. And Resolve 10 offers major functionality for editors – and a whole lot more.
The question I take away having watch the demo at the SuperMeet, is: – can Resolve 10 be used as a full-featured editor over other choices out there. In other words, can you do all your editing within Resolve 10 and not use anything else.
This is a question I put to Grant Petty,
CEO
of Blackmagic Design.
Interview with Grant Petty, CEO, Blackmagic Design. April 10, 2013

Question: Resolve 10, how capable is this as an editor I want to know, I know theres editing functionality in it, but I dont know, could you use as a full blown editor and not use something else
Grant Petty, CEO Blackmagic Design
"I dont know actually, I mean I guess, I like to understate things. Our intentions were to try and get the whole online process sorted out. I think the thing that I found very frustrating is how companies bicker with each other and fight with each other and the products dont work together properly. DaVinci has always been different places in the workflow. I mean youve got the on set, the online side, you want to finish in it, you want to do the delivery of the digital package files, theres a lot of different things DaVinci needs to use, but if youre cutting a film, the editor is going to use Avid, Final Cut guy is going to use Final Cut. So what we really wanted to do was keep everything working together, that was the whole intention. Im tired of the fights and the bickering; what we want to do is just make the whole thing work and thats really been our goal. So you know we called it Online Editor because thats what were doing, were online editing. Were taking those
RAW
files and onlining it and creating a beautiful, finished master."
"Now can you use it independently You probably can, its pretty powerful, its got a lot of different trim modes and plug-ins and speed changes and theres optical flows, its all real-time and everything, its great, but my feeling is that theres no point in recreating everything that great editors have in them, what we want to do is add the things that are really important. So were very much focussed on the online side of it and youve got to do everything in some ways that the editors do, so you can bring your project into DaVinci, but you can get it back out again. Because you can go from Final Cut into DaVinci Resolve 10, and you can go back out again, and then you get as much as you possibly can back into Final Cut without losing things. So you do have to do a lot of this stuff to be able to make sure that you can keep going on jobs. You know in the DaVinci Resolve 9, if you want to do too many changes to the timeline youve got to take it back to Final Cut, re-do them and then bring it back in again, which is very frustrating. Youve got different editors on big jobs now working on different editors, you might have a Final Cut guy and an Avid guy on the one job. In the old days youd have one editor doing the entire movie, but youve got really complex
CGI
, very complex effects, different editors working on different scenes. You know DaVinci by default has multi-user capability, its got remote grading capability, you can grade from the other side of the planet on the system."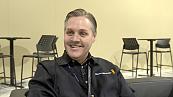 It is worth watching Alexis's demo from the SuperMeet for a glimpse of what is on offer. We wont know for sure what the editor in Resolve 10 is like to use until the product ships later this year.
Click movie below to see Alexis Van Hurkman demo the new editing features in DaVinci Resolve 10
The video above shows excerpts from Alexis's demo at the
NAB
SuperMeet. Here we get to see the new editing functionality included with DaVinci Resolve.
One thing for sure, looking at the screen grabs from the SuperMeet demo, we can see some very familar looking functions, a source record metaphor also described as the two window display for editing; a logical Timeline with locks, layers and familiar tools in familiar places, and titling and speed controls.
There is a danger of reading too much into a demo, though my hunch is the impact of Resolve 10 could be huge. The editing scene is still reverberating from the changes of the last few years and many are not content. Another offering in the Mac and Windows editing scene will be welcomed and if it performs well as a standalone editor and online editor with the ability to move projects from
NLE
(of choice), into Resolve 10, and back out again, then this a needed and extremely useful tool. My hope is that the editor in Resolve 10 works great stand-alone and/or in combination with your editor of choice.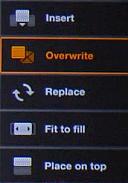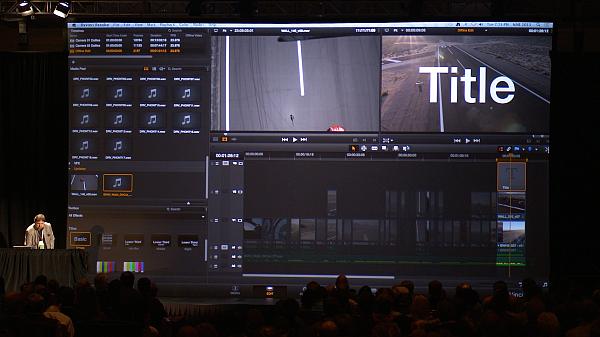 Blackmagic have strong roots in the world of post production. The fact that they have taken Resolve, described as "the worlds most advanced color correction system", and refined it ato now feature online editing capabilities, to me is both refreshing and forward thinking.

What I have seen so far looks tantalizingly appealing. This one I am watching!