The Sony
BPU
series of batteries have had a long and proven track record and are still going strong. Originally used with the PMW-EX1, these batteries have been used on many Sony cameras, including the PMW-F3 and most recently the PXW-FS7 and the rest of the
PXW
series..
The
BPU
batteries from Sony are an excellent power source, having proved themselves time and time again in production environments. The only problem with these batteries is they are expensive. A single Sony BPU-60 battery sells for just over £160 ex-vat in the UK.
If you look on eBay there are knock-off versions of the Sony
BPU
batteries available for as little as £42 each. I would be reluctant to trust these, for no other reason than people pay good money to have their productions filmed, so why risk a cheap battery that may or may not perform. If you run out of power on location this could cost you an entire job. Furthermore, when flying with lithium batteries I feel secure knowing I've invested in safe power sources.
However, there are alternatives to the Sony batteries from reputable suppliers. RedPro batteries, distributed by Digibroadcast in the UK, use Samsung cells, come with year warranty, and sell for close to 40% less than the equivalent Sony battery. That's a significant saving.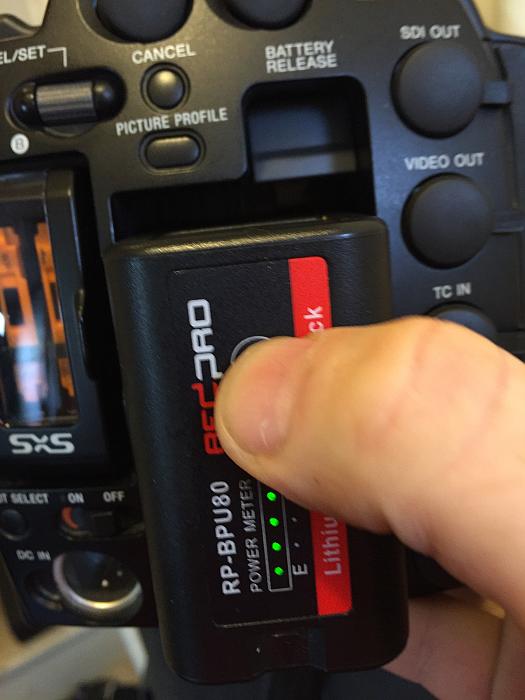 I needed batteries and I needed them bad. I was flying out to the South Pacific and needed to have plenty of reliable batteries to keep me filming throughout the 8 day shoot. My collection of Sony
BPU
batteries were getting old; on some the power indicators were only partially working and others were not holding their charge. Time to invest.
The RedPro batteries, in terms of functionality, do the same thing as the Sony batteries. Charge them, connect them, and you have a power source with lights on the back of the batteries to show the remaining charge. Simply press the button on the back of the battery and straight away you will know how much power remains.
Furthermore, these are intelligent batteries which communicate with the camera. The display of information is indicated on the
LCD
screen of the camera and also visible in the viewfinder when filming.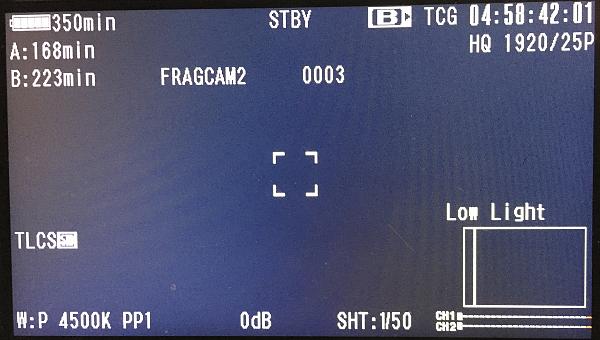 With RedPro battery attached to the Sony PMW-F3, on full-charge, I would get between 300 and 350 minutes of power. In actual use this may vary, depending on which camera you use. The Sony F3 is hungry for power, therefore I would expect to be able to record for longer durations when using less power-hungry cameras such as the EX1, EX1R, PWM200, and perhaps some of the newer
PXW
series of cameras. In terms of performance, I found the record time from the RedPro RP-BPU80 batteries to to exceed that which I get from the Sony BPU60s.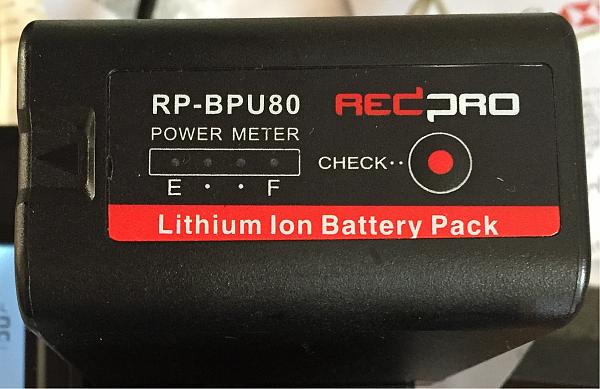 The power solution I was working with was 2 RedPro RP-BPU80 batteries with RedPro dual charger. The charger doesnt feel as robust as the equivalent Sony BC-U2 dual charger – however, the Sony BC-U2 costs over 200 pounds Sterling ex-vat just for the charger – while the RedPro charger with 2 batteries sells for 254 pounds ex-vat. Individual RedPro RP-BPU80s can be purchased for just over 100 pounds ex-vat each.
Note: when using the RedPro dual charger there are 2 modes of charging:
L
for low or quick charge and
H
for high which provides a longer charge.
I tested the RedPro batteries and charger over several weeks, filming in Australia, Fiji, and Europe and found no issues. The charger works as it should, the batteries do exactly what they are designed to do. One minor point to mention is that the on-camera display, which shows remaining time when using RedPro batteries, can take up to 20 seconds to appear on-screen from the initial power-up, while when using Sony
BPU
batteries this is pretty much instant.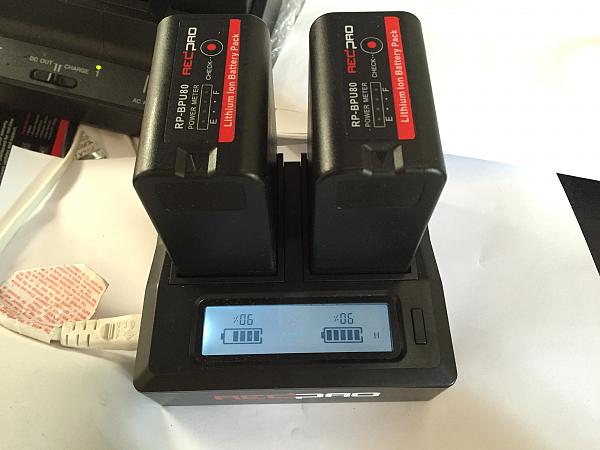 I haven't been able to do tests to see how the batteries deteriorate over time and therefore cannot say 100%, for sure that the Red Pros will hold up as well as the Sony batteries – however, my tests to date show the RedPros to be reliable and safe. I'd take them anywhere. Given that the batteries are 40% cheaper than the Sonys, I will certainly be looking at this solution for any future battery purchases. I'm currently using the RedPros on paying jobs and will continue to do so.
For more info visit:
http://www.digibroadcast.com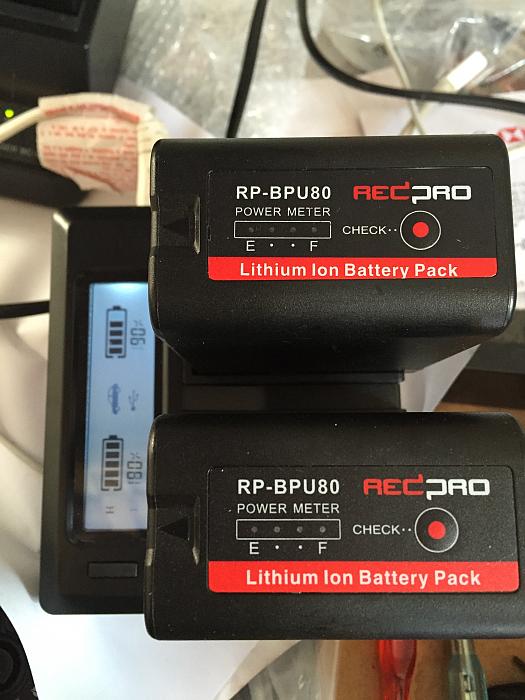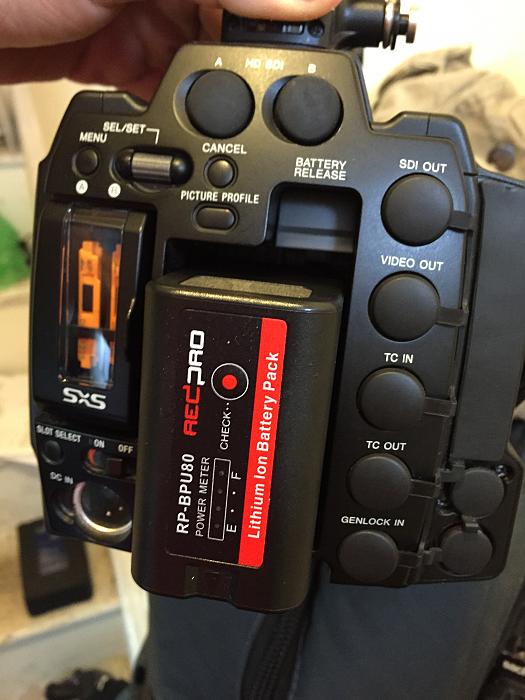 NOTE: the RedPro batteries I tested provide an excellent alternative to Sony
BPU
batteries. RedPro also make a series of batteries which work as an alternative to Sony
NPF
batteries – and there are also variations with in-built
D-TAP
making this batteries system even more flexible.