Having installed the software, opened it and played with Lightworks for several hours, I have to save this has exceeded my expectations at every level of what I would have expected for the Mac release.

First – this is beta software. I'm reluctant to test Beta software much of the time as you never know how stable it will be and whether it will mess up an other-wise working system. I loaded this onto an older 17 inch MacBook Pro, not my main machine, and have to say the Lightworks Beta seems to be rock-solid and very close to being ready for release.
Something I always look at when investigating any editing system is how responsive is it and how stable it is. Lightworks in wonderfully responsive. This isn't surprising as Lightworks is designed to work with an external controller, in fact this controller is legendary, first having appeared with Lightworks systems in the early 1990s. At this time there was a war between Avid and Lightworks. Avid won the war, however Lightworks survived. The result is a mature system, with over 2 decades of refinement. The controller – available for £1850 – is a tactile way to play and shuttle through your media; very similar to operating the film controller on a Steenbeck. The responsiveness and feel of the system is fluid and feels great using the
JKL
keys and spacebar for shuttling forward and backwards. I have no doubt this would be fantastic with the controller in your hands.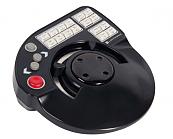 In terms of operation I was able to get to grips with most of the key functions quite quickly.
A bar positioned to the to the left of screen provides a gateway to the most important editing functions, including: import, create edit, search, export.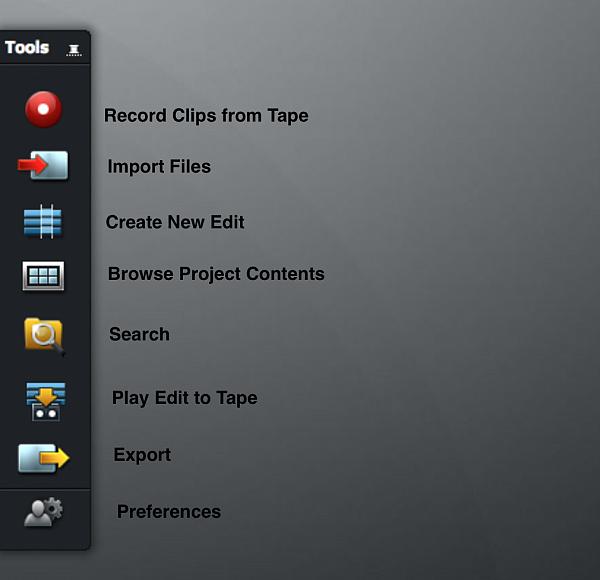 Imported Media can be viewed in either icon mode or list mode.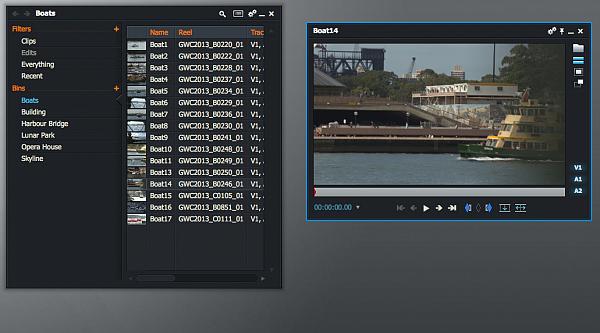 It is easy to create a new project, create bins, move media between bins, and edit media into the Timeline. Simply choose to edit video, audio, video and audio or any combination of tracks. You can add video and audio tracks – everything is logical and well thought out.

Above: edit Video and Audio

Below: edit Audio only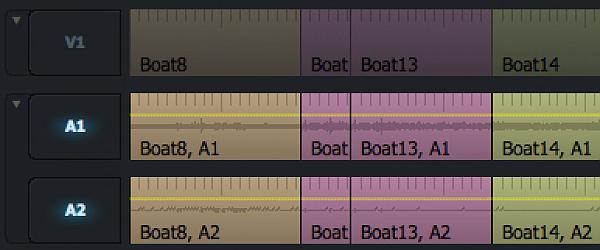 Something quite different about Lightworks to other editing systems is that there are no menu bars at the top of the interface. Everything is accessed by clicking or control-clicking on the clips, the bins, the projects – or by way or buttons or shortcuts. The interface is made up of free floating windows which you can position anywhere. Think of it as a build your own interface. Once you have the different windows where you want them to be you can pin the windows into position, which means they won't move.

A handy list of shortcuts is included in the documentation. Before I knew it I was tapping away, shuttling through footage, and then editing the footage into the Timeline. You can choose to import the keyboad shortcuts as Final Cut Pro shortcuts, or as Avid shortcuts. I decided to work with the Lightworks shortcuts as I wanted to get a feel for the Lightworks way of doing things.

Editing with Lightworks is like being in a familiar yet unfamiliar world. I understand the system, yet I have to look for key functions. Most of this comes quickly and easily.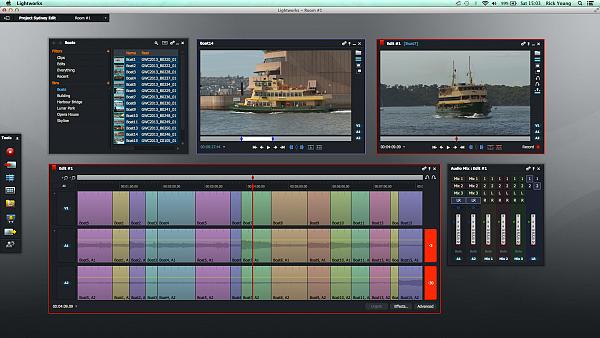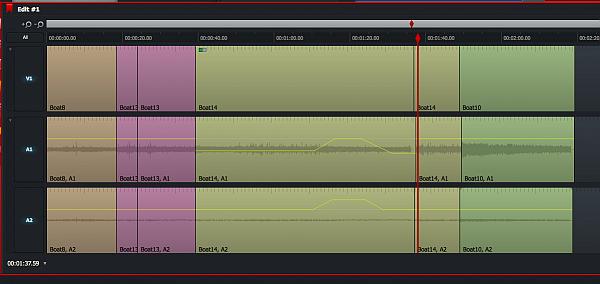 Audio keyframes can be plotted in the Timeline or open the audio mixer for a more traditional approach.
Lightworks is undeniably built for the professional user. Given that it is stable, it works well, and it can be licenced for less that £5 per week, this represent amazing and staggering value. As someone who lived through the days when edit suites used to cost eighty to a hundred thousand dollars, this is nothing short of incredible.

I can't speak knowledegably about everything to do with the system as I've only been working with it for several hours. However I can say I'm impressed, I like it, it is stable, seems to have all the key functions needed for most editing tasks – and that this system has already proven itself on many Hollywood feature films. Martin Scorcese's The Wolf of Wall Street, edited by Thelma Schoonmaker, was edited using Lightworks.

Lightworks has a bright future and the release of the Mac version will help Lightworks spread to a much wider audience. Put it this way, I wouldn't be investigating this software if it weren't available on the Mac.

The editing world is still recovering from the traumatic events of the last few years. Many editors have now decided their system, be it Final Cut Pro X, Media Composer, Premiere Pro or perhaps a PC based application. Yet many other editors are in a state of limbo. Many many editors still edit with Final Cut Pro 7 or earlier versions.

Lightworks will certainly appeal to editors who favour a bin structure and track based timeline.

From my point of view, Lightworks is warmly welcomed, as it provides another choice, and something that could be an excellent choice, for those creating high-quality video or cinema content on the Mac. As an edit system Lightworks has already proven itself. It will very interesting to see the impact the Mac version of Lightworks has on everything from affordable production to big budget features.

Notice in the above image all of the Bins are Listed.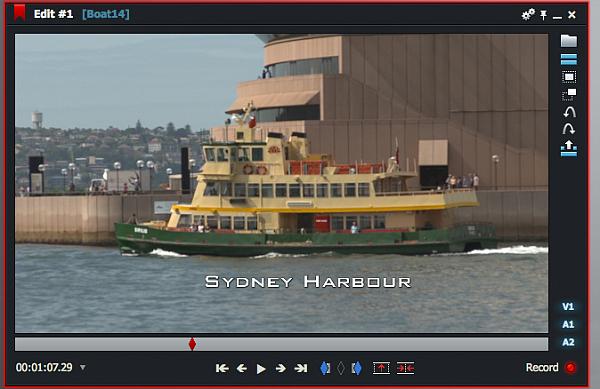 A wide range of effects and text options are available.