When I got a call asking me if I'm interested in live vision mixing a six camera shoot in Basel, Switzerland, I thought less than a second and said yes. I was jumping back more than a decade in my career and welcoming the opportunity.
Each camera was recorded independly and the live feed of the vision mixer was recorded direct to
SSD
within the Samurai Blade. It doesn't get simpler.
SSD
(or spinning drive into the Blade); direct feed of video over
SDI
with embedded audio; power running over AC via power adapter (which connects to where you would attach a battery on the back of the unit.) Then it's a case of hit record which is clearly shown by a red outline around the image on-screen.
The event runs over 3 hours, with live recordings every 1/2 hour for 15 – 20 minutes at a time.
I hit record 5 minutes before we go live for each segment.
What amazes me is that during my time as live director in the 1990s and early 2000s, everything was recorded on huge
VTR
machines, each of these costing many thousands of dollars or pounds (like 70- $90,000
USD
).
Now one device – the Samurai Blade – with
SDI
feed, records a 10-bit ProRes, ProRes (HQ) or DNxHD file, with quality far surpassing the quality that ever would have achieved using many of the expensive broadcast decks and tape machines of the past.
It's like having a full-blown professional deck in your pocket (anyone remember the days of C-format VTRs)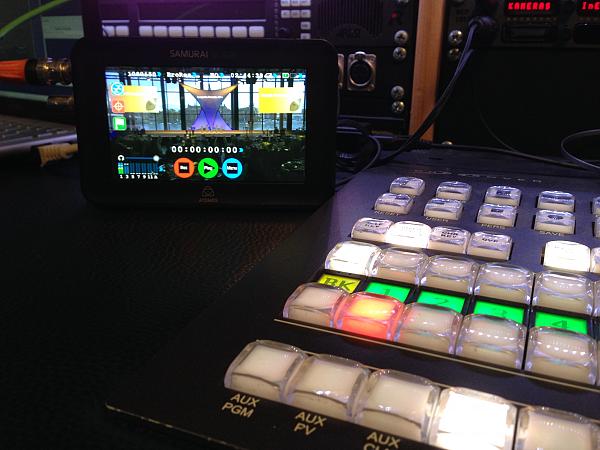 And the cost of the Samurai Blade is a fraction of what it used to cost for any broadcast recording device.
As I vision mix the live program I monitor the record on the excellent display on the Blade; I then unplug the Blade and walk away to complete the edit.
I don't even need to transfer the files! I simply plug the drive onto an adapter, the drive mounts on the desktop of the Mac, I then import the footage into
FCPX
. The ProRes files work seamlessly with
FCPX
, the 10-bit 4:2:2 quality is fantastic.
This is live production to post in the 21st century.