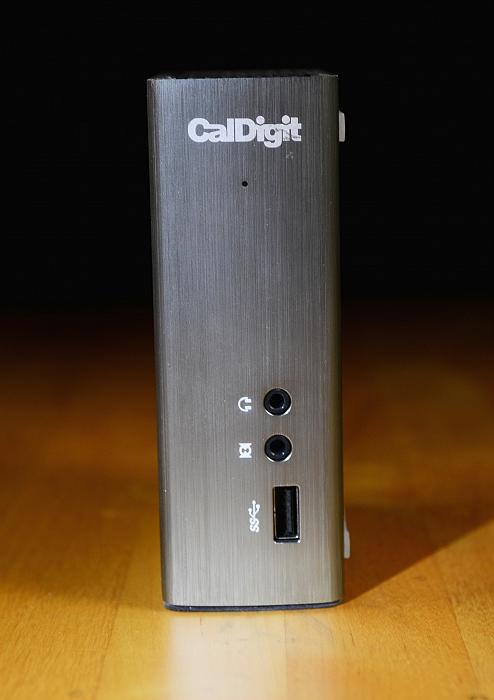 The box arrives with my Caldigit Thunderbolt 2 Station. I remove the TS2 and find this to be delightfully small – 1/2 the size of what I expected. You can hold the unit in the palm of your hand.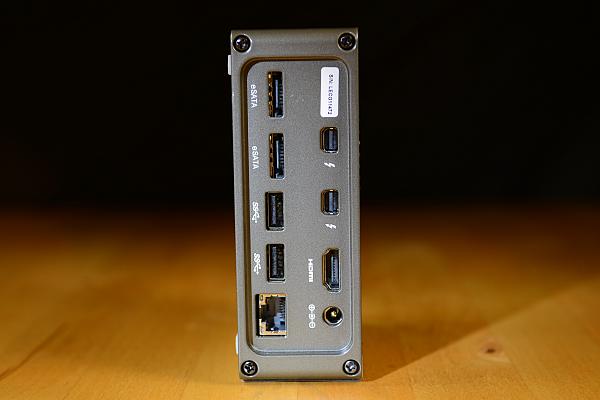 I plug in the power supply and then connect the unit to Mac via a Thunderbolt cable (not supplied.)
A blue light on the front show the TS2 is receiving power.
This is as plug and play as you can get.
Straight away I plug in several
USB
devices, these are recognised straight away.
The
HDMI
works flawlessly, as does every port offered on this device. I test the Gigabit Ethernet,
HDMI
, Thunderbolt, eSata, audio out from 3.5mm mini-jack. Everything performs flawlessly.
This is unique that everything should work perfectly straight away, without having to install any drivers or software!
Heres what you get for your money:
Caldigit TS2 Thunderbolt connector with power supply
This offers:
2 x Thunderbolt ports
1 x

HDMI
3 x USB3
2 x eSATA
Audio out (3.5mm)
Audio in (3.5mm)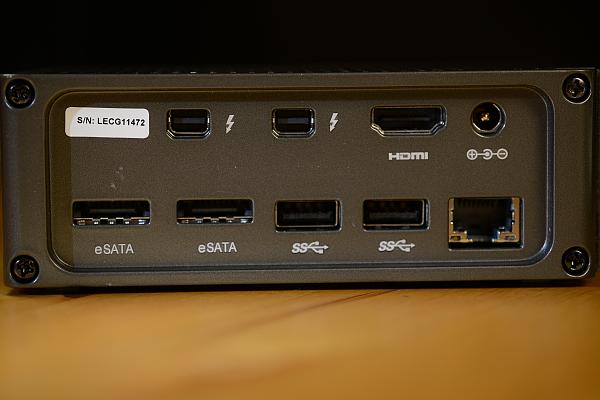 As editors, many of us work exclusively on MacBook Pros. While the Mac Pro is desirable, many of us need to be portable. The MacBook Pro is the machine of the editor who needs to be mobile, or the producer/director who both shoots and edits.
While the MacBook Pro provides 2 Thunderbolt ports, 2 USB3 ports, and
HDMI
– there are many times I find myself running out of places to plug things in. Thats where the Caldgiit TS2 comes in so useful.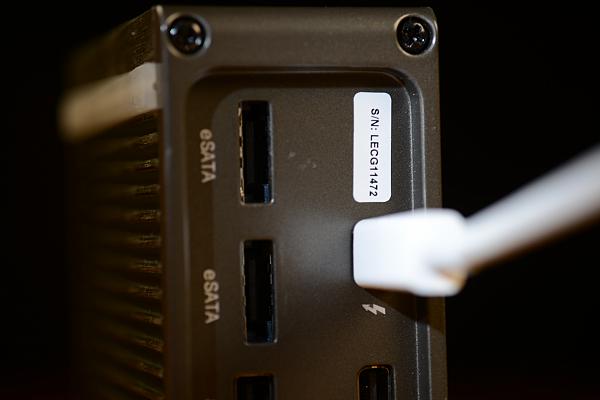 Immediately, you have an extra 3 USB3 ports. This is much needed and gives a total of 5
USB
ports, including the 2 already built into the MacBook Pro.
The extra Thunderbolt connector is very useful – I can now run 3 x Thunderbolt devices.
The Gigabit ethernet enables me to plug direct into a router, which provides for a faster and more stable internet connection. Great for uploading of large files. I used to use Gigabit Ethernet all the time on my older machines before this disappeared from the current MacBook Pros.
There are 2 eSATA ports on the TS2. This is so incredibly useful! I have plugged in 2 eSATA
RAIDS
that I used to use. These I had retired – with these plugged into the TS2 station I find I now have 10 drives mounted and ready to work with. eSATA is affordable and fast. I'm happy to have this back in my life!
The TS2 features an
HDMI
enabling 4K output onto a suitable monitor. I tested the
HDMI
, which works fine, however have not tested this to a 4K display.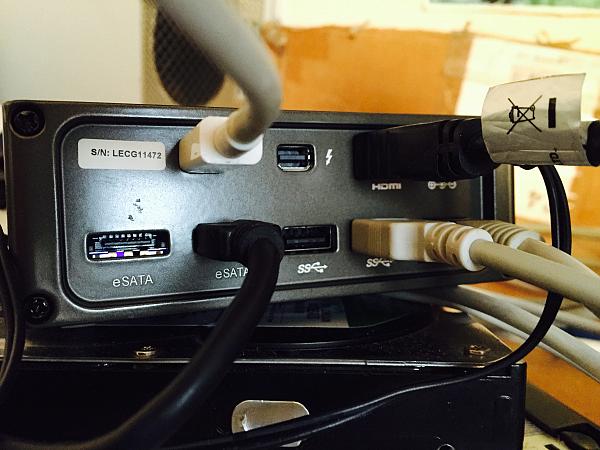 The Caldigit Thunderbolt 2 Station makes your MacBook Pro, MacBook Air, or any Mac with a Thunderbolt port, a powerhouse of connectivity with access to technologies that do not come standard with many of the modern Macs.
If you find yourself constantly running short of USB3 ports, have a need for eSATA, an additional
HDMI
port, Gigabit ethernet, and need an extra Thunderbolt port, then this device is a winner.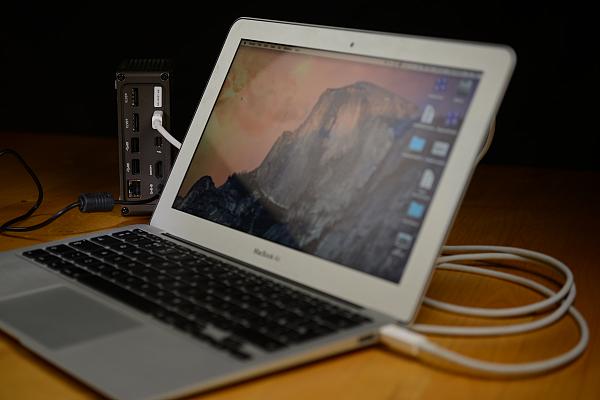 The TS2 has the result of taking all the cable clutter and moving it away from your Mac. When you wish to leave home or the office, simply unplug the Thunderbolt cable, grab your MacBook Pro or MacBook Air – and there is then no messing about with cables. Everything is ready and in place, plugged into the TS2 for when you return.

I mentioned at the beginning of this report that no drivers or software is required. This is true – everything works right out the box. However, these is software you can download which will give you the ability to unmount hard drives connected to the TS2. A small arrow-like icon will appear at the top of your Mac interface to enable this.

You can choose to Eject all Volumes or selectively eject drives one at a time.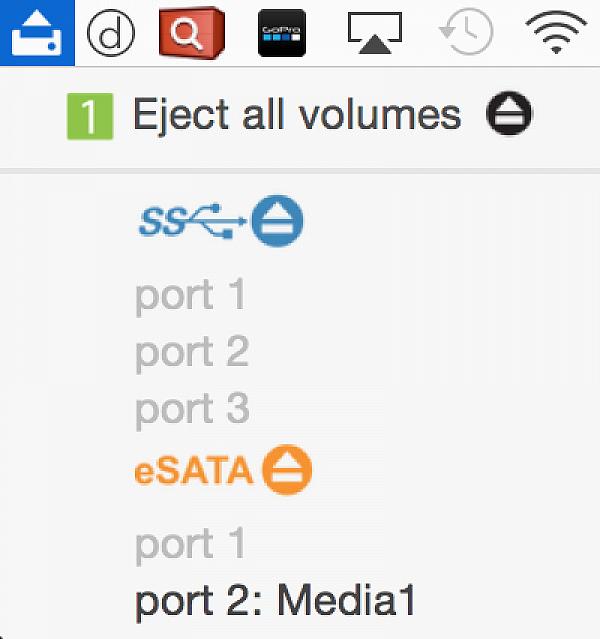 There in another update which can be downloaded which enables the TS2 to work as a standalone charger (no computer required) for iPhones, iPads, and iPods. Very useful!
Be aware, the TS2 works great without downloading the software or driver. To get the most out of the unit download from:
http://www.caldigit.com/support.asp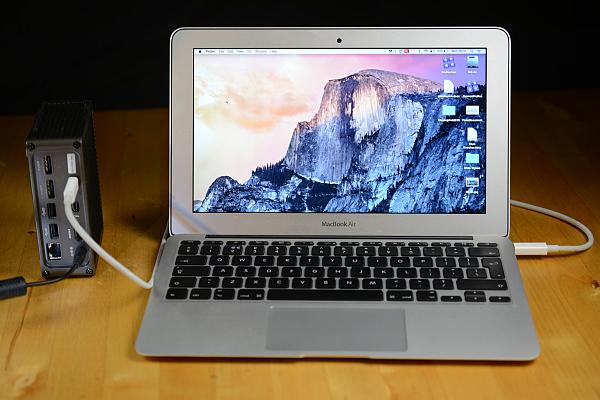 Above: the Caldigit TS2 plugged into MacBook Air
If I were to be really critical I would mention there is no FireWire on the TS2. However, you can buy a Thunderbolt to FireWire adapter if you need this connectivity. Plug the adapter into one of the Thunderbolt ports on the TS2 and you are then good to go.

Overall, the Caldigit Thunderbolt 2 Station (TS2) wins for sheer simplicity to set up, usefulness, and affordability. In the UK the TS2 can be purchased for £160 including vat. This is a product that does exactly what it says it does, and it does it very well. The TS2 has become a permanent fixture for me when working in the office or home. I may well purchase a second one to take on the road with me!