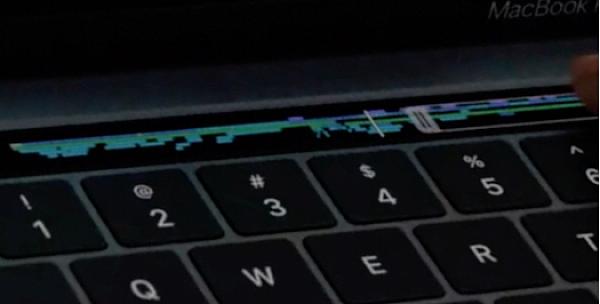 I'm excited about the new MacBook Pros for one reason – the Touch Bar.
At first I thought this could be a gimmick, nice but not essential. Then I researched further into how this will integrate with latest version of Final Cut Pro X 10.3.
The entire
FCPX
Timeline can be displayed in the Touch Bar. With a glance to the Touch Bar, the editor has an overview of the Timeline – one can quickly jump to any specific area simply through touch. You can therefore display a zoomed, working area in the main timeline window with the overview in the Touch Bar – two representations of the same Timeline..
To some, it may not matter whether the Timeline is on the main window or on the Touch Bar – or available in both locations. For me, I remember another non-linear editor, long ago in the 1990s, called EditDV. This featured an overview of the Timeline at the top of the interface (a feature which I loved.) I also used to play a video game, more than 2 decades ago, called Defender – this featured an overview display of the terrain where I would fly my rocket ship. This meant I always knew where I was going, as I could see the big picture and also an overview at the same time. This is the concept that Apple has integrated with the Touch Bar and Final Cut Pro X 10.3.
The Touch Bar does more than what I have written above. Here's the description from Apple of how
FCPX
10.3 and the Touch Bar work together: "While using Final Cut Pro X the Touch Bar lets users instantly switch between editing tools, adjust audio levels and tap into useful commands for trimming and playback. It will even display a color-coded, interactive overview of the entire timeline so users can navigate their project with the touch of a finger."
I'm not excited about everything to do with the new MB Pros. I'd like faster processors, or a new generation of processors, more than 16GB of ram, I will mourn the loss of the ports I currently use and don't like the idea of carrying around a selection of adapters to plug everything together. However, this is the price of the latest technology and the one thing I really want, which is the Touch Bar!