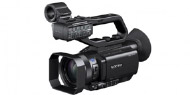 Sony PXW-X70 - Multi-format recording, 4K ready camcorder
4K-ready fully-featured affordable compact camcorder for a wide range of applications from news gathering and documentary to events work. The PXW-X70 is 4K ready and will be able to handle 4K recordings with a future upgrade.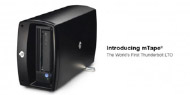 MLOGIC SHIPS MTAPE - WORLDS FIRST THUNDERBOLT CERTIFIED LTO-6 BACKUP & ARCHIVING SOLUTION FOR CREATIVE PROFESSIONALS
mLogic has announced that the company is now shipping its innovative mTape backup and archiving solution to customers worldwide. mTape is the industrys first LTO-6 tape drive to feature Thunderbolt connectivity and the first tape drive system to receive Thunderbolt certification from Apple Inc. and Intel Corporation.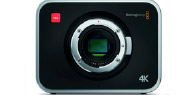 BLACKMAGIC DESIGN ADDS AUDIO METERS, HISTOGRAM AND NEW FEATURES TO THE BLACKMAGIC PRODUCTION CAMERA 4K
Camera 1.9 software update also includes a new audio metering with peak hold feature to allow setting audio levels for Channels 1 and 2 when using the built in microphone as well as externally connected audio sources. The histogram shows the the distribution of luminance in their images and if highlights or shadows are being clipped.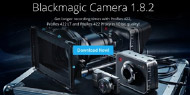 BLACKMAGIC CAMERA UPDATE 1.8.2 EXTENDS PRORES RECORD OPTIONS FOR BLACKMAGIC CAMERAS
With the latest 1.8.2 update for the Blackmagic Cameras users can now choose to film additional ProRes formats: ProRes 422, ProRes 422 LT and ProRes 422 Proxy. This in addition to the formats which have already been available: ProRes HQ and CinemaDNG RAW.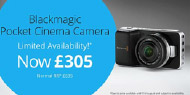 Massive price drop for Blackmagic Pocket Cinema Camera: 50% off until August 31st
Blackmagic Design have slashed the price of the Blackmagic Pocket Cinema Camera, by 50%. This special price is available until August 31st and while stocks last!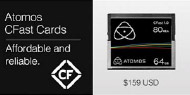 Atomos branded CFast cards - media for the Ninja Star
Atomos have released their own branded CFast cards, guaranteed for speed and reliability when using the Ninja Star. The Atomos 64GB CFast cards sells for $159 USD, while the 128GB card is 239USD. Furthermore, a CFast Card Reader is now included with every Ninja Star.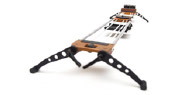 SINCROCAM: INCREDIBLE SLIDER FOR ROBOTIZED 2 AXIS PANORAMIC VIDEO AND TIME-LAPSE
Sincrocam is a very easy to use robotized slider, which will allow you to make video and Time-lapse panoramic camera movements of more than 360 degree with exquisite precision. Its compact design and cutting edge technology will enable you to film professional sequences and give a special touch to your multimedia creations.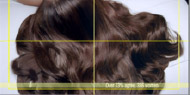 EYEHEIGHT ANNOUNCES BROADCASTSAFE VERSION 1.5 COMPLIANCE PLUG-INS
Eyeheight announces a major expansion to the capabilities of its BroadcastSafe compliance plug-ins for Avid's Media Composer and Adobe's Premiere Pro post-production software.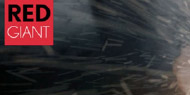 RED GIANT RELEASE PLURALEYES 3.5, AS PART OF SHOOTER SUITE 12.5 UPDATE
Red Giant has released Shooter Suite 12.5, which includes new versions of two Shooter Suite products: PluralEyes 3.5 and Instant 4K. New to the suite is Denoiser II, Red Giants powerful video noise reduction tool. Also included are the recently updated BulletProof 1.2, as well as Frames and LUT Buddy.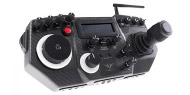 FREEFLY SYSTEMS NEW MVI CONTROLLER NOW SHIPPING
The MVI Controller is purpose built to provide for a true two-user MVI stabilizer setup by letting a second operator control pan, tilt, roll, focus, iris, and zoom of a MVI-mounted camera while the first operator holds the system.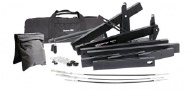 CarryOn Jib - The Most Compact, yet Full-Sized Camera Crane
At multiple lengths up to 8 feet, the modular CarryOn Jib packs up to a compact 22 inches, going anywhere your projects take you. The CarryOn Jib is the smallest and lightest crane of its kind supporting loads up to 10 pounds. It expands from a 4 foot mini-jib to into a full 6 feet in length and can collapse into an unbelievable 22 inches, still fitting in an airline approved carry on size bag, or easily in with your checked luggage.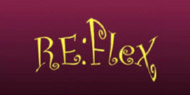 RE:VISION EFFECTS ANNOUNCES RE:FLEX V5 WITH GPU SUPPORT FOR AFTER EFFECTS
RE:Flex provides superior morphing and warping for After Effects. RE:Flex uses both open and closed splines for its free-form interface rather than a mesh-based solution. RE:Flex is especially easy to learn because it uses After Effects' own drawing and masking tools to direct the warping and morphing; as such, there is no need to learn a whole new user interface.